SV628 Acetic Silicone sealant for Window and Door
Product Detail
Product Tags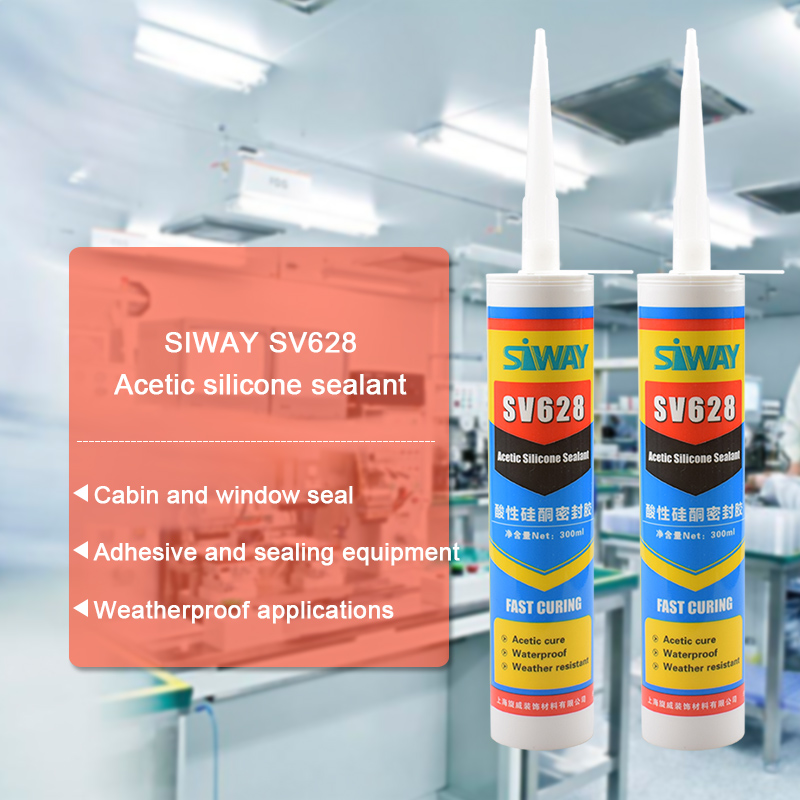 FEATURES
• 100% silicone
• Easy to apply
• Excellent elasticity
• Excellent adhesion to most common building materials
• Outstanding weatherproofing capability
• Fast Curing
MOQ:1000 Pieces
PACKAGING
300ml in cartridge * 24 per box, 200L in Drum
BASIC USES
1.All kinds of glass curtain wall weatherproof seal
2.For metal (aluminum) curtain wall, enamel curtain wall weatherproof seal
3.Joint sealing of concrete and metal
4.Roof joint seal
COLOURS
SV628 is available in black, gray, white and other customized colours.

These values are not intended for use in preparing specifications
| | |
| --- | --- |
| Performance | Test standard |
| Tack Free Time,min | 15 |
| Shore Hardness | 18 |
| Maximum Bond Strength | 1.5 |
| Tensile Rate% | >300 |
| Proportion | 0.87 |
| Consistency | 0.88 |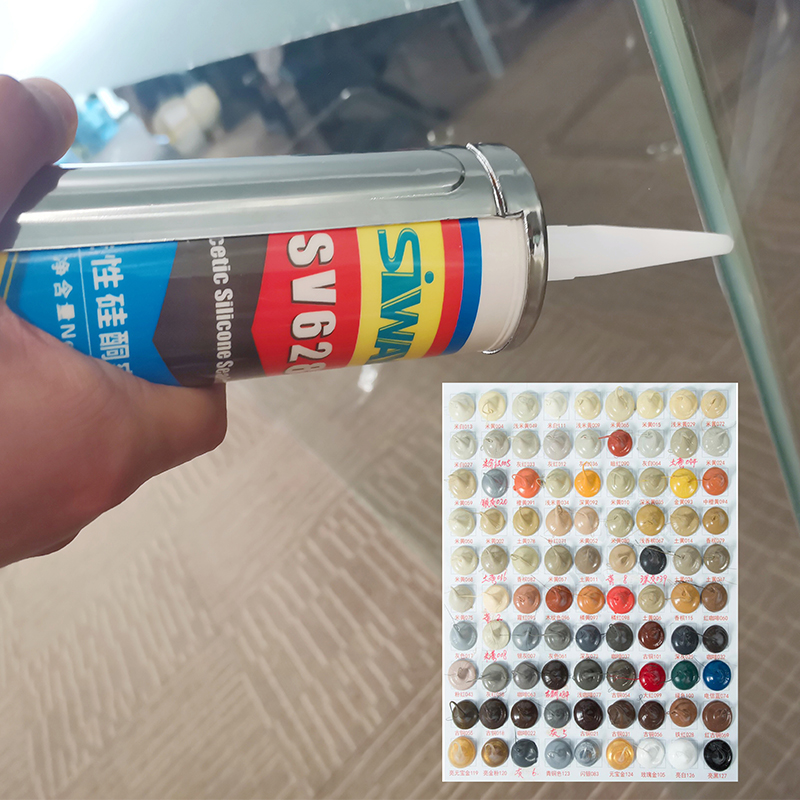 As exposed to air, SV628 begins to cure inward from surface. Its tack free time is about 50 minutes; the full and optimal adhesion depends on the sealant depth.
SPECIFICATIONS
SV628 is designed to meet or even exceed the requirements of:
Chinese national specification GB/T 14683-2003 20HM
STORAGE AND SHELF LIFE
SV628 should be stored at or below 27℃ in original unopened containers. It has a shelf life of 12 months from the date of manufacture.
How To Use
Surface Preparation
Clean all joints removing all foreign matter and contaminants such as oil, grease, dust, water, frost, old sealants, surface dirt, or glazing compounds and protective coatings.
Application Method

Technical Services
Complete technical information and literature, adhesion testing, and compatibility testing are available from Siway.
Safety Information
● SV628 is a chemical product, not edible, no implantation into body and should be kept away from children.
● Cured silicone rubber can be handled without any risk to health.
● Should uncured silicone sealant contact with eyes, rinse thoroughly with water and seek medical treatment if irritation persists.
● Avoid prolonged exposure of skin to uncured silicone sealant.
● Good ventilation is necessary for work and cure places.

Shanghai Siway Curtain Material Co.Ltd
No.1 Puhui Road ,Songjiang Dist,Shanghai,CHINA Tel: +86 21 37682288
Fax:+86 21 37682288
---
---
Write your message here and send it to us