SV High performance mildew silicone sealant
Product Detail
Product Tags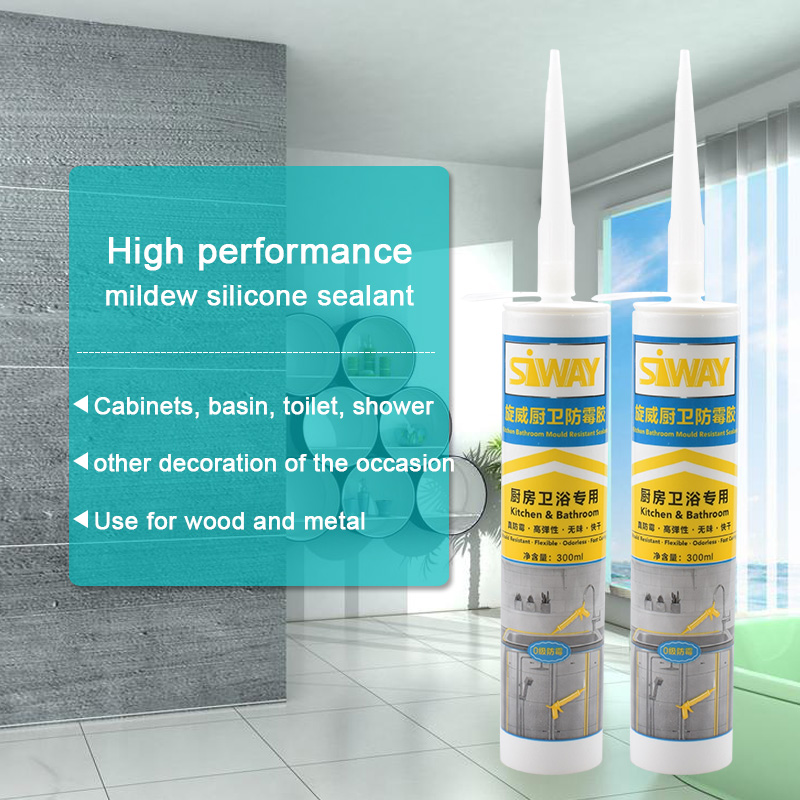 FEATURES
-easy to operate, you can always use out;
- Neutral curing, suitable for most building materials without adverse effects or corrosion;
- Excellent adhesion: no primer, with most of the building materials to form a strong cohesive force;
- excellent weather resistance and aging performance;
- excellent long-term anti-mildew ability;
- Good environmental performance.
COLOURS
SVmildewis available in black, gray, white and other customized colours.
PACKAGING
300ml in cartridge * 24 per box, 590ml in sausage *20 per box
BASIC USES
Siway neutral high-performance anti-mildew silicone sealant can be widely used in a variety of high-humidity environment, the interface of the waterproof seal and filling and so on, such as cabinets, basin, toilet, shower, etc., and other needs long-term Moldy effect of the decoration of the occasion.
These values are not intended for use in preparing specifications
 Test standard

 Test project

 Unit

 value

Before curing——25℃,50%R.H.

 GB13477

Flow, sagging or vertical flow

mm

 0
GB13477

surface drying time(25℃,50%R.H.)

min

 60

GB13477

Extrusion

(ml/min)

355

Sealant curing speed and operating time will have different with different temperatures and temperature, high temperature and high humidity can make sealant curing speed faster, rather low temperature and low humidity are slower.

21 days after curing——25℃,50%R.H.

GB13477

The ultimate tensile strength

Mpa

0.9

GB13477

Movement capability

%

12.5

 

Mildew grade

0 grade

0 grade
CURE TIME
As exposed to air, SVmildewbegins to cure inward from surface. Its tack free time is about 50 minutes; the full and optimal adhesion depends on the sealant depth.
SPECIFICATIONS
SVmildewis designed to meet or even exceed the requirements of:
Chinese national specification GB/T 14683-2003 20HM
STORAGE AND SHELF LIFE
SV mildew should be stored at or below 27℃ in original unopened containers. It has a shelf life of 12 months from the date of manufacture.
HOW TO USE
Surface Preparation
Clean all joints removing all foreign matter and contaminants such as oil, grease, dust, water, frost, old sealants, surface dirt, or glazing compounds and protective coatings.
Application Method
Mask areas adjacent to joints to ensure neat sealant lines. Apply SVmildewin a continuous operation using dispensing guns. Before a skin forms, tool the sealant with light pressure to spread the sealant against the joint surfaces. Remove masking tape as soon as the bead is tooled.
TECHNICAL SERVICES
Complete technical information and literature, adhesion testing, and compatibility testing are available from Siway.
SAFETY INFORMATION
● SVmildewis a chemical product, not edible, no implantation into body and should be kept away from children.
● Cured silicone rubber can be handled without any risk to health.
● Should uncured silicone sealant contact with eyes, rinse thoroughly with water and seek medical treatment if irritation persists.
● Avoid prolonged exposure of skin to uncured silicone sealant.
● Good ventilation is necessary for work and cure places.
DISCLAIMER
The information presented herein is offered in good faith and is believed to be accurate. However, because conditions and methods of using our products are beyond our control, this information should not be used in substitution for customer's tests to ensure that our products are safe, effective, and fully satisfactory for specific applications.
---
---
Write your message here and send it to us